Alberta Canada Hunting Outfitters
If fair chase hunting for whitetail deer, black bear, coyotes and world-class waterfowl hunting is your "thing", then hunting Northern Alberta at MC Outfitters is where you need to be.
Hunt Alberta Canada with MC Outfitters
MC Outfitters is a small family owned business by myself Kerby McMann and my wife Stephanie McMann. We hunt whitetail deer, black bear, waterfowl & coyotes over 10,000 acres of private, no pressure hunting ground. The property runs along the famous Beaver River with over 8 miles of river bottom to hunt, numerous agricultural fields and thick cover. This is a perfect habitat for trophy whitetails and black bear to call home. Thousands of geese and ducks nest here and our spot is the first that migrating waterfowl come to on their journey south.
MC Outfitters offers each hunter a unique hunting experience. Whether you are hunting in a ground blind or heated hunting stand on our whitetail deer hunts; hunting bears at active baits; shooting unlimited amount of coyotes while we call them in to our baits; or enjoying world-class waterfowl hunts, MC Outfitters ensures a top quality experience for everyone.
Join us on your next Alberta Canada hunting trip.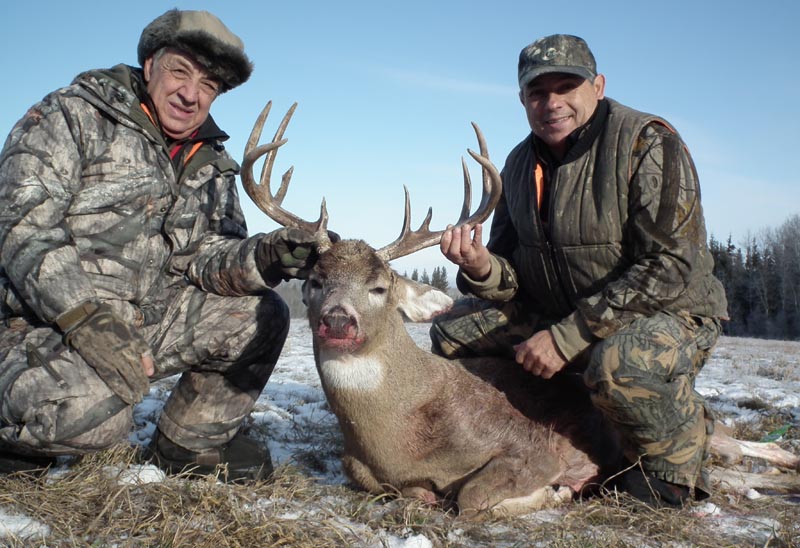 Hunter Testimonials
Family run operation with excellent facilities! Great food and personal attention that you don't get from larger outfitters. Very nice hunting blinds set in BIG buck country. You will feel like family and they work very hard to get you a Whitetail buck of a lifetime.
- Sam Syring, Pleasanton, TX